A Fanfare is a flourish of trumpets or other brass instruments often with percussion accompaniment. It is a kind of announcement or introduction to an important event or ceremony of significance such as the King's entrance or other dignitary occasions.
The fanfare has often been used not only to introduce a significant real life event but also as an intro into an upcoming musical part or section of an opera, symphony, or anthem. One of most famous examples utilizing the fanfare is Beethoven's opera 'Fidelio,' where the arrival of the chief minister Don Fernando is heralded by the triumphant sounding of a solo trumpet.
Some British composers wrote the fanfare for certain dignified coronations into royal acceptance or position. Later during the Second World War, Aaron Copland composed 'Fanfare for the Common Man' as a tribute to man's implementation of democracy.
The trumpets used in fanfares are long slender sounding horns, unlike their smaller orchestral counterparts. Fanfare trumpets may or may not have valves. These trumpets have been used in many early paintings or drawings of the Renaissance and other periods. In modern times, the fanfare trumpets are common in marches and anthems. Right: The Fanfare Team of southern England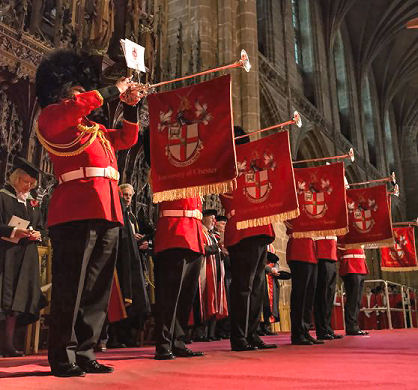 Below you will find two great examples of fanfare compositions. The more renowned, which I'm sure you'll recognize, is 'Also Sprach Sarathustra, Op. 30,' composed in the latter Romantic Period by German composer Richard Strauss. The second piece entitled simply 'Fanfare,' was composed by English musical perfectionist Sir William Walton in 1959. It is a short and beautiful work played here by the highly skilled and beautiful Norwegian virtuoso trumpeter Tine Thing Helseth.
'Also Sprach Zarathustra, Op. 30'
Composed by Richard Strauss 1896
Composed by William Walton 1959
Renowned Fanfares with composers arrange by date
'Also Sprach Zarathustra'
'Fanfare for the Common Man'
Fanfarae for Two Trumpets & Trombone
'Fanfare for a New Theatre'