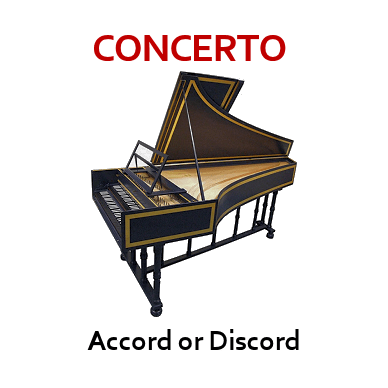 Concerto comes from the Latin word 'concertare' which can mean both opposing or in accord; thus indicating that the concerto carries a primary principle of orchestral parts working together or in dispute with one another. Emerging from the early 18th century Baroque era, the concerto is one of the most adaptable forms to date.
In the concerto, the brilliance of the soloist converges into a passionate dialogue with the might of the orchestra. It had a strong influence during the latter Baroque years, largely inspired by the works of Antonio Lucio Vivaldi who wrote some 230 concertos for violin plus a couple hundred additional pieces. Vivaldi wrote concertos for organ, harpsichord, strings, mandolin, and more. Other composers greatly admired Vivaldi's work.
J.S. Bach, one of the greatest musical influences in history, was prompt to bring improvements to the form adding his own unique subtlety in writings for harpsichord, establishing the keyboard concerto a significant position within the form's future. Mozart too jumped in with masterful pieces in his piano concertos of the 1780s.
These traditions were carried on by most composers worth their weight throughout the 19th and 20th centuries. Many of these compositions featured strong demands of the soloist, notably Rachmaninov's 'Piano Concerto No. 3' in the early 20th century.
Most solo instruments have been showcased in concertos, some using multiple instrumental parts or starring solo performers. Mozart composed his 'Clarinet Concerto in A Major' in 1791 and near a century later in 1883 Richard Strauss featured the french horn with 'Horn Concerto No. 1.' Since, concertos have been written for cello, oboe, flute, brass, and more. The concerto remains one of the most used and popular musical forms until today.
'Clarinet Concerto in A Major'
Composed by Wolfgang Amadeus Mozart 1791
Composed by Ralph Vaughan Williams 1944
Renowned Concertos with composers arranged by date
'Concerto for Mandolin & Strings'
'Flute and Harp Concerto'
'Clarinet Concerto in A major'
'Emperor' Piano Concert No. 5''
Johan Julius Christian Sibelius