Aria is the Italian word for "air." In musical circles, an aria is a melodic vocal solo. The soloist portrays the feelings or mood of the characters in an opera or oratorio, thereby expressing the emotions of the characters in the story. The aria offers the singer the opportunity to reveal their own expertise as well often resulting in great favor from audiences. The best singers of arias are often rewarded with not only applause but even fame and fortune for their talent and skills in these large musical pieces.
The greatest arias live to endure the test of time becoming both renowned and popular beyond the circles of the opera. One of the mainstay leaders of opera aria composition was Claudio Monteverdi. His 'Possante spirto' from the play 'Orfeo' reigned in Italian opera for quite some time.
Other composers like Bellini, Puccini, and Verdi too wrote stunning operas during the 19th century, as did Mozart in both German and Italian languages. Richard Wagner had no intention of composing popular songs within his extremely demanding arias for opera. This is clearly shown in his work 'The Flying Dutchman' in 1841. In fact, Wagner's influence on 19th century opera became so wide that arias began to lose importance and favor among composers of dramatic opera up to the end of the century.
Meanwhile Guiseppe Verdi, Giocomo Puccini, and Vincenzo Bellini were still at work writing some of the best regarded opera arias to date.
Find below the highly renowned classical aria 'The Flower Song,' written during the Romantic Period in 1875 by the French composer Alexandre-César-Léopold Bizet, also known as Georges Bizet, who became popularly known across Europe as the great 'Leopold.' The aria is a passage from his highly renowned opera 'Carmen.' I like it. After listening to one of the best Italian tenors in modern times, Jonas Kaufmann of the Vienna Philharmonic Symphony perform The Flower Song, all I can ask is, 'How could any woman say no to that?'
Aria: 'The Flower Song' from Carmen
Composed by Alexandre-César-Léopold Bizet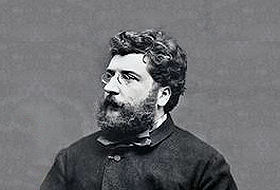 Renowned Arias with composers arranged by date
'Dido's Lament' , Dido and Aeneas
'I Know That My Redeemer Liveth' , Messiah
'Che farò senza Euridice' , Orpheus and Eurydice
'Dove sono' , The Marriage of Figaro'
'In des Lebens Fruehlingstagen' , Fidelio
'Una voce poco ta' , The Barber of Seville
'Der Fliegende Holländer' , The Flying Dutchman
'La donna è mobile' , Rigoletto
'The Flower Song' , Carmen
'Che gelida manina' , La Bohème
Christoph Willibald (Ritter von) Gluck
Gioachino Antonio Rossini
'Vincenzo' Salvatore Carmelo Francesco Bellini
Alexandre-César-Léopold Bizet